EDDIE SOUTH PINK SUB PAGE


CLICK HERE FOR EDDIE SOUTH CDS AND BOOK


BACK TO MAIN PINK PAGE


This section continues BG corrections and additions in the printed FB:VIS/iv/11–13 scanned below at the end of the page

i.m. Milt Hinton 23 June 1910–19 December 2000

new session
Eddie South and His International Orchestra
Clifford King (cl), Eddie South, J. Wright Smith (vn), Antonio Spaulding (pn), Everett Barksdale (gt), Milt Hinton (sb), Jimmy Bertrand (dm)
late February or early March 1933
Recordings, Inc. studios, Hollywood, Los Angeles – Columbia pressing – handwriting on Recordings, Inc. basic printed label reads, seemingly in South's hand: To My Darling / Mother / Sincerely / Sonny – EDDIE SOUTH is etched vertically into runout – Owen DuPree mc, not the same as unidentified mc on Chelonis, spoken intro incl. Souvenir program, personnel, titles – South talks incl. "We'll be back some day, goodbye" – Diga Diga Doo at request of South's good friend Clifford Gantt – La Cumparsita dedicated to all the members of the Spur Riding Club in Los Angeles
a Herje Kati – theme – mc voice over
b Diga Diga Doo – fast vn unison riffs – pn, dm, sb solos
c La Cumparsita – me voice over at start
d Herji Kati – theme – mc voice over – South talk
Recordings, Inc. matrix B-625-A 12inch single-sided 78 transcription – matrix in same series as the slightly earlier 1933 Cheloni 16inch LP transcriptions
new session ref. BG/46; February–April 1938; Brown and Polson
EDDIE SOUTH AND HIS ORCHESTRA FEATURING MABEL MERCER
Stanley Jack Hamilton (tp), Paul Bizzochi, Pál [Paul] Herrer, Louis Stephenson (rd), Eddie South (vn), David Martin (pn), Isadore Langlois (gt), Paul Cordonnier (sb), Tommy Benford (dm), Mabel Mercer, ensemble (vc)
?–VARA or other Netherlands studio – no audience – ?–[?IBC] Radio Luxembourg and Poste Parisien broadcasts – ?–Brown and Polson Cookery Club – South talks
?–Hilversum or Amsterdam – ?–broadcast over RL May–October and PP June–December 1938 – ?–recorded February–April 1938
a OCB 520 Marie (Berlin) – Mercer, ensemble (vc)
78 [ex-ET/AT] Decca [EN] test (a) – c.1960s vinyl pressing – see note
CD Timeless Historical [NL] CBC1-086 (a) Americans in Holland, The Great Thirties, Broadcasts and Private Recordings
NOTE South introduces: "Good morning to you. This is Eddie South ushering in another program. Our opening number is called "Marie" with vocal chorus by Mabel Mercer." South is the sole instrumental soloist apart from a brief piano intro. ¶Decca OC series designates Outside Contract; B designates 10 inch [A would designate 12 inch]. Despite the English pressing recording location is certainly not England and must surely be Netherlands. ¶The assumption is that the title belongs to South's weekly series of B&P Cookery Club programs as these are his only identified regular European broadcasts. ¶High audio quality suggests the title is pressed from an original broadcast ET for combining with Jean Scott's Cookery Club talk rather than from an aircheck AT. ¶The possibility that other titles are extant from B&P programs [note spelling correction: Polson], broadcast after South's return to USA, cannot now be discounted – see BG/46. ¶See also BG/42 for two photos of Mercer with this orchestra, Amsterdam, February 1938. In one photo the band studies over Mercer's shoulder unidentified published sheet music which she holds – research assistance courtesy John R. T. Davies, Eddie Shaw, Raymond P. Welch-Bartram.

new session
EDDIE SOUTH AND HIS ORCHESTRA
Rudy Powell (cl on (a) only, as on (b) only), Eddie South (vn), Stanley Facey (pn), ?–Eugene Fields (gt), ?–Doles Dickens (sb), ?–Joseph Johnson (dm) – see note
CBS or NBC studio – audience – WD SSD broadcast – Command Performance USA, No. 48 – Ken Carpenter an – Jeanette McDonald mc
Hollywood – released early 1943 for direct shortwave broadcast overseas – recorded 16 January 1943
. [two titles] – South out
a Tzigane in Rhythm (South) – Powell (cl) – other occurances of this original composition by South previously given in BG as (trad., arr. South) in error
. [two titles] – South out
b St Louis Blues – Powell (as) – sole identified recording of this title by South
. [one title] – South out
TR
War Department Special Service Division H-18-48-Pt. 1 [stamper 072952-1A] (a,+.[part]) Command Performance U.S.A., No. 48, Part 1 – coupled with No. 47, Part 1
War Department Special Service Division H-18-48-Pt. 2 [stamper 072953-1] (b,+.[part]) Command Performance U.S.A., No. 48, Part 2 – coupled with No. 47, Part 2
CD Redmond Nostalgia ? Command Performance – includes two complete programs incl. this one
NOTE
South was appearing at the Macombo, LA at the time. Probable (gt), (sb), (dm) are, with the others, South's last identified personnel at Cafe Society, NY some months earlier who are preferred to his next identified sextet, with (tp) in place of (gt), Eddie Brown and Slick Jones, at Folies BergŹre, NY a few months later. Facey, present in both, and Powell are certain. Aural evidence suggests Fields. Aural evidence does not suggest any other (dm) known with South. ¶Theme and other titles by unidentified orchestra incl. strings as Command Performance Orchestra; Dale Evans [Frances Smith]; Virginia O'Brien; Mills Brothers; Eddie LeBaron Orchestra; Jeanette MacDonald. ¶Production of Command Performance passed to AFRS in ?November 1943. Only WD SSD programs were double-disc coupled as here.

new session
EDDIE SOUTH AND HIS ORCHESTRA
Eddie South (vn) incl. string section prob. incl. Isadore Izzy Gusikoff (cl)
WOR studios, New York, c.spring or summer 1945
a Unknown titles – unreleased – ?–not extant
78
Feature (a) unreleased – ?–not extant
NOTE
Metronome (July 45), 29, reported: "South recently cut a string-ensemble album for WOR Feature Records." The session was again confirmed in Metronome (Oct 45. 24): "Feature WOR Recording Studios 1440 Broadway, New York 18: So many small record companies recorded at WOR that WOR decided it should get some of the gravy more directly, and produced this label of its own. Early in its career it recorded Jan Garber. More recently it made a session looking toward a full album by Eddie South." These unreleased recordings for an album that may never have been completed are unlocated and may not be extant.

new session ref BC/67, fol.; Country Sessions
DENVER DARLING
?–Henry Lewis on some (tp), ?–Sal Franzella on some (cl), Eddie South (vn), ?–Frank Froeba (pn), ?–Irving Roy Ross (ac, md), ?–Vaughn Horton (st gt), ?–Lester Braun (sb), ?–Phil Kraus (dm), Denver Darling, ?–Rosalie Allen, ensemble (vc)
?–Linden, New Jersey – c.May 1946
a D214 I'm Gonna Sue Sioux City Sue – South solo, obbligato – Denver, ensemble (vc)
b D215 I've Just Gotta Be a Cowboy – South solo, obbligato – Denver (vc)
c D216 Think of Home – South solo, obbligato – Denver, ensemble incl. female [?–Rosalie Allen] (vc)
d D217 I Was Dreaming Someone Else's Dream – South solo, obbligato – Denver, ensemble (vc)
78
DeLuxe 5015 (a,d)
DeLuxe 5016 (b,c)
LP
Audio Lab LP1507 (a,c) Denver Darling, Songs of the Trail
CD
BACM [EN] 136 (a,c) Denver Darling, vol. 2, Singing on the Range

NOTE
Note ?–Lester Braun (sb): DeLuxe was owed by David and Jules Braun. ¶South is not the violinist on other Darling sessions. ¶South is not the violinist on other Darling sessions.

new session ref BC/67, fol.; Country Sessions
CURLY GRIBBS AND HIS TEXAS RANCHERS
?–Sal Franzella or ?–Nathan Brown (cl), Eddie South (vn), ?–Frank Froeba (pn), ?–Irving Roy Ross (ac, md), Vaughn Horton (st gt), ?– Lester Braun (sb), ?–Phil Kraus (dm), Curly Gribbs [Frank Pietro] (vc)
New York – c.June–August 1946
a SRC227 Sierra Serenade (Darling, Horton) – South obbligato – Gribbs (vc)
b SRC228 Silver Stars, Purple Sage (Denver Darling) – South solo, obbligato – Gribbs (vc)
c ?–unissued title
d ?–unissued title
78
Signature 1001 (a,b)
NOTE
¶South is not the violinist on other Gribbs sessions.

NO new session NO
TEXAS JIM ROBERTSON
In addition to the 1945–1947 country music sessions for RCA Victor detailed in BG, incl. one by Texas Jim Robertson, Robertson claimed that South participated in at least one further country session by him. During a 1956 Don Larkin hosted broadcast, guest Robertson apparently stated that on his "When I Was 98": "Chet Atkins is git-boxing and Eddie South is a-fiddlin'" but this was a misrecollection. The violinist on that session is not South. Robertson is also reported as saying that South "is about five feet tall and about five feet wide".

new session ref BG/81; 13 May 1951; Garroway at Large
EDDIE SOUTH WITH JOSEPH GALLICHIO NBC ORCHESTRA
House orchestra with string section incl. Joseph Gallichio (md), Eddie South featured solo (vn)
Studio – NBC-TV – Station WNBQ – Garroway at Large – sponsored by Congoleum–Naim Floor Coverings – no audience – Ted Mills producer – Larry Conklin musical coordinator – Dave Garroway mc – South talks
Chicago, 13 May 1951
a Currant Jelly (Pate)
b My Yiddishe Momme
KINESCOPE (a,b)
A newly identified fourth appearance by South on a Dave Garroway TV show. Audio only has been auditioned but video is extant, making this the third moving image of South known to exist. ¶Other guests incl. Betty Chappell, Jack Haskell, Connie Russell. South plays the same tunes as he does on Garroway's 13 November 1953 New York show in essentially the same arrangements. ¶South reveals "My Yiddishe Momma" to have been his mother's favorite tune. ¶Part of South's performance, believed to be from this show, also used in an extant compilation Garroway at Large: Musical Highlights. ¶The making of the program is discussed at length in Edward Stasheff and Rudy Bretz, The Television Program: Its Writing, Direction, and Production (2nd, new rev. ed., New York, Hill and Wang, 1956) – it is not known whether the program is discussed in the original 1951 edition or in much later editions

?–apocryphal session
Web refs to the discovery of a hitherto unknown South session apparently on a white label AT or ET autographed by South [?–or simply his name handwritten by another] are, so far as can be ascertained fol. extensive enquiries, apocryphal; although we suppose it could, if it exists, conceivably be, e.g., a 1944 Standard Transcription test, as such are known to exist, or, less likely, a lacquer of the 1944 Esquire session or 1945 WOR Feature session – see BG/61 fol.; new session prec.

BG/9; caption to front cover photo
The photo was taken at the Maurice Seymour studio, Chicago. Two further photos, incl. a posed action shot, have come to light from the same occasion.

BG/9; FB:VIS/iv/11/103 update; caption to p.27 top photo, rev. w/ New Photo FB:VIS iv/13/5 Middle; BG/9–10; Caption to p.30 Bottom Photo; BG/93; September 1931
The drummer in the Austrian location photos and the Chicago rehearsal orchestra photo brought by South from Europe is twenty-year-old Cuban Jose Isidro Sergio Barreto, brother of pianist Mario Barreto, who is named by Fred Avendorph as South's drummer in CD (9 Nov 31; 23 Jan 32). Sergio Barreto sung Spanish and French songs brought back from Europe by South's orchestra. It appears that he may also be the Nino (which means Baby) who recorded with South, 27 September 1931 – research assistance courtesy Hans Pehl, Kevin Coffee, Howard Rye.

BG/10: caption to p.30 bottom photo
An uncropped print has come to light revealing that the photo was taken by Maurice Seymour Studios

BG/10; FB:VIS iv/11/102; caption to p.57 bottom photo
This photo by Libsohn-Ehrenberg was printed cropped on the cover of Down Beat (Chicago, 1 July 41) – see FB:VIS. A second shot taken at the same time, showing South and Cugat in exchanged positions with South playing the violin instead of Cugat, appeared in Metronome, lvii/7 (NY, July 1941), 7, with caption: "Six recording leaders getting kicks outside the AFM investigated studios. Teddy Wilson entertains Xavier Cugat, Eddie South, Red Norvo, John Kirby and Gene Krupa at Cafe Society." The two photos should best be viewed together as a pair – see blue page photos

BG/11; caption to p.43 top right photo
This photo shows South with Barney Josephson at Cafe Society (Uptown) in 1940. It is not a Paris photo. A better reproduction is included in Josephson, Cafe Society: The wrong place for the Right people (Un. Illinois Press, 2009). However, this book mistakenly includes a Chicago photo of South's trio with Jones and Pate, c.1951 (shown on BG/80), incorrectly captioning it "Cafe Society Uptown, about 1940." Contrary to references in the book South did not have a trio at Cafe Society. His groups there seem always to have been five or six pieces.

BG/11; caption to p.59 top photo
The photo is cropped from a slightly larger original for New York World-Telegram & Sun Collection at LC possibly by Libsohn-Ehrenberg. Location is Cafe Society Uptown, dated April 1942. Another photo at the same location in the collection definitely by Libsohn-Ehrenberg is dated April 1941.

BG/11; caption to p.127 photo
Location Cafe Society, Uptown, c.December 1946. Photo William Gottlieb. This print is a Gottlieb crop from a larger extant photo.

BG/18–19; 1923 Sheet Music Featuring Wade and 1924 Music Manuscript, ?–in South's hand, of Wade Unreleased Recording
Wade's Moulin Rouge Orchestra produced one released title from their second Paramount session, Chicago, c.20 February 1924, two months after the session in December 1923 that produced two released titles, "Someday Sweetheart" and "Mobile Blues", the latter in two released takes. The February 1924 "You've Got Ways I'm Crazy About" shows matrix 1686-1. This master has a curious release history. It was released on Paramount 20301 credited in error to Al Siegel's Orchestra, coupled with a genuine Siegel title. It was also released on the Embassy, Mitchell, Puretone, Resona, Triangle labels, all with the release number 11363, correctly credited to Wade, with the same Paramount Siegel coupling, this time credited to Wade in error. Somewhat inexplicably, the erroneous Paramount credit to Siegel is perpetuated in the 2013 Revenant–Third Man Records set The Rise and Fall of Paramount Records, 1917–1927, Vol. 1. The corrected information has long been available in both standard and specialist discographies, most recently in Guido van Rijn and Alex van der Tuuk, New York Recording Laboratories Matrix Series, Vol. 4. (2014). It would be odd for a session to produce just one title and it seems likely that it did not. Surrounding matrices 1685, 1687, 1688 are untraced. Either or both of the following two titles are put forward as unreleased, no longer extant, candidates. Firstly, sheet music for "Jimtown Blues" (Rose, Davis), published by Melrose, Chicago, in 1925, is known with the same featured Wade orchestra photo as that shown on "Mobile Blues", published by Melrose in 1924. Secondly, the suggestion that "Charleston Man Blues" is one of the unissued titles was first made by Howard Rye and John Cowley in Storyville, 2000-2001 (2001). There is significant supporting evidence for this. The Library of Congress holds two different manuscript copies of the same music: LC Notice of Use lead sheets, with intro, verse, chorus for "Charleston Man Blues", one stamped Feb 29 1924, the other Feb 29 '24. It was copyrighted by Edward Otha South and submitted by J. Mayo Williams' Chicago Music Publ. Co. The composition is credited on both lead sheets to Wade's Moulin Rouge Syncopators, and both bear the names of all eight members of the orchestra, in what looks like South's hand. The original fine line, ink or pencil, notation has been heavily emboldened, possibly by another hand, while the title and names are in fine line ink, except that "Charleston" has been altered from "Charlestown". Assistance Wayne D. Shirley, Howard, Ate Van Delden, Konrad Nowakowski. Photocopies of the two manuscripts of "Charleston Man Blues" are held in the AB Fable.

BG/19; December 1923; Wade's Moulin Rouge Orchestra
78 Claxtonola 40295 (a,c &/or d)

BG/19; 1923–1924; Lewis Gross with Wade
Read, according to handwriting, ?South's, on recorded but unreleased "Charleston Man Blues" mss – see prec., Lewis Gross, not Louis Gross. The same mss read Theo. Weatherford. The six other names are as known.

BS/20; Wade Orchestra in New York
Rendezvous Cabaret reopened November 1926 at 65 West 129th St, NY with Fletcher Henderson; Jimmy Wade; Fess Williams orchestras (Grove).

BG/20; 1926–1927; New York Recordings by Wade Musicians Mostly Under the Auspices of Perry Bradford
In addition to the two titles under Wade's name for Gennett, the sessions fol. include Wade and/or some of his musicians: Georgia Strutters, four titles for Harmony, 6 August 1926; 21 October 1926; Perry Bradford's Jazz Phools, four titles for Okeh, December 1926; 16 February 1927; ?–Victoria Spivey, one title for Okeh, 12 August 1926. Eddie South is not present on any of these recordings. If he could be shown to have had a hand in directing some or all of them, which in view of the fol. Perry citation seems likely, they would properly belong to South's discography. [A Georgia Strutters session, without Wade musicians, 23 May 1927, includes Edgar Sampson (vn).] – "Then Eddie South [said]: "It's true, because Perry gave Jimmy Wade's band our first break when we came to New York . . . yes, he laid four recording dates on us, and through Perry's efforts we got a five month's engagement at Club Alabam. [. . .] Jimmy Wade was our leading cornetist, while your boy Eddie South was pulling the strings across the violin—and also was the teacher for the band . . ." – Perry Bradford, Born With the Blues (NY, 1965), 91–92.

BG/24–29; 1927–1931; Guitarists with Eddie South Alabamians; Eddie South International Orchestra
All (gt) annotations for Mike McKendrick and Sterling Conaway should probably read (tenor gt) on the basis of aural evidence and available photos in which their instruments are shown. ¶For 27 September 1931 read: Stanley Wilson (tenor gt), not Everett Barksdale (bj) – we are appalled at our long-standing error and grateful to Björn Englund for reminding us that Barksdale, who played six-string guitar, not four-string tenor guitar, did not join South until 1932 – corrections also to CD Frog.

BG/24; 8 December 1927; Marion Harris
CD Archeophone 5001 (a,g) Marion Harris, The Complete Victor Releases – clinical transfers with lost harmonics on first pressing – instrumentation errors repeated from Victor ledger and labels
CD Archeophone 5001A (a,g) Marion Harris, The Complete Victor Releases – improved harmonics but noisy transfers on remastered second pressing – instrumentation errors corrected
CD CD Living Era [EN] CDAJA5330 (g) Marion Harris, Look for the Silver Lining

BG/28; 13 April 1928; Gene Austin acc. Nat Shilkret
Brian Rust's personnel incl. South's guitarist Mike McKendrick comes from Nat Shilkret interviewed London, 1 March 1958, later independently confirmed by Gene Austin at his home in New Jersey. Mitchell, Feeling My Way gives Eddie Lang but this must be discounted despite aural considerations – research assistance courtesy Brian Rust, Raymond F. Mitchell.

BG/28–29; 12 March 1929 incl. dating error; Paris
The mystery of the cornetist on "Doin' the Raccoon" is solved: Sterling Conaway, not Arthur Briggs, is confirmed as the cornetist. We are grateful to Chris Macdonald who has alerted us to South's statement of his personnel, in which he says banjoist/guitarist Conaway also plays cornet, in his article in Rhythm (London, November 1930) – correction also to CD Frog. ¶Three takes were recorded of (a) and two takes of (b). Only the released takes -2 for both titles are believed to be extant. The EMI matrix ledger gives the date as 22 February 1929, not 12 March 1929 as always previously given. Catalogue release is shown as 9-665 K5628 and 9-666 K5628 – research assistance courtesy Roger Beardsley.

BG/28; 92; South's pianists in Europe
Henry Crowder's replacement Antonio Spaulding was a member of Tommy Ladnier's group incl. Louis Douglas (dance) at Trocadéro, Paris, c.April 1930, during his temporary absence from South, following the taxi accident, at which time he was temporarily replaced by Arthur Gibbs.

BG/29; 27 September 1931; Marcheta
Nino (which means Baby) and Sergio Barreto may be one and the same.
Correctly, the title should read: Marchéta (A Love Song of Old Mexico) (Schertzinger), not Shertzinger
read: Se va la vida, not vido. It also appears that the composers are Edgardo Donato, María Luisa Carnelli (aka Mario Castro), not Melfi

read: Mama yo quiero un novio, not una novia. Composers Ramón Collazo, Roberto Fontaina, not Fontane, Callayo.

BG/29; 3 May 1933

read: (Denniker), not Dennicker

BG/29; 12 June 1933

read: (Gordon, Revel), not Reel

BG/35,38,117; rev. FB:VIS/iv/13/7; January–April [not June] 1933; 23 November 1934; Title Index; At the Ball, That's All
Correct spelling of composer of "At the Ball, That's All" is J. Leubrie Hill, not Lubrie. This was one of several Hill songs from Darktown Follies published by black owned Lafayette Publ. Co. at Lafayette Theatre (New York, 1913), reissued for Ziegfeld Follies by Remick (New York & Detroit, 1914) – sheet music photocopy on file courtesy Franklin Powers.

Zinky Cohn (pn) may be a more likely contender for (pn) than either Spaulding or Smith.

BG/36; 3 May 1933; Eddie South International Orchestra
CD BBC [Indiana Historical Society/Smithsonian] [EN] [3 – disc 1] CD3007 (a) The Classic Hoagy Carmichael = LP BBC 4000 = BBC MC 2CJ4000 – South title on BBC [EN] version only: "For contractual reasons, several recordings chosen by the Producers and described in the booklet of the American edition were, unfortunately, not available for inclusion on this BBC Enterprises edition. In almost all instances we have tried to provide alternative versions from approximately the same period with suitable regard for high musical qualities. The substitutions are: [. . .] 'Old Man Harlem' Eddie South and his Orchestra (instead of Ethel Waters) [. . .]"

BG/37; 12 June 1933; Eddie South International Orchestra
78 HMV [EN] BD193 also exists as an Indian pressing.
78 HMV [DK, mfd EN] X4489 (a,g) – released c.September 1935

BG/38; c.spring 1935; Rudy Valle Fleischman Yeast Hour
Brief silent home movie by Rudy Vallee of South rehearsing for the radio show is extant. South is seen standing first with three other African-Americanss, perhaps very sepeculatively for the moment his own musicians, or others appearing on the same show, then playing and laughing alone. Duration of the clip is some twenty-four seconds. Note that Hinton's recollection was that South played on the show with Vallee's orchestra, not with his own musicians. An aircheck of South's performance on the show has never been found. Research assistance courtesy Mark Cantor, Michael Friend, Steven Lasker.

BG/44–45; 29 September 1937; 23 November 1937; 25 November 1937; Paris Swing Sessions
NOTE We are unable to keep up with the plethora of Reinhardt or Grappelli CD releases that include titles from these sessions
CD Frog [EN] DG50 (a-e) Django Reinhardt, The Swing Sessions, Vol. 1
CD Frog [EN] DG52( f-j) Django Reinhardt, The Swing Sessions, Vol. 2
CDR EMI [?] [2] AW-7/01 / AW-10/01 – AW-10/01 (g) One Night in Paris and Another Night in Paris – limited ed. not for sale promo
LP Pathé [FR] CHTX240551 (a,b) Django et ses amis americans

NOTE Transcription extracts of "Sweet Georgia Brown", "Eddie's Blues" in Harrison – see Bibliography fol

"Eddie South, about whom Teddy [Weatherford (pn)] was very enthusiastic, played on the Jimmy Wade Paramounts in 1921 [sic: 1923] which were Teddy's first records, and was also in Paris in 1937 at the same time as Teddy. teddy told me two stories concerning South, but anyone who has ever met Grapelly [sic throughout] may have some difficulty in believing the first! / It seems that Teddy and Grappelly were both present in some club in Paris where there was a session going on, when in came Eddie South without his violin. South was asked to play and so he borrowed Grappelly's instrument. / 'An' Grappelly, he jes' sat there listening like he was in a daze an' he didn't say nothing. After a while Eddie South, he got through with playing, he didn't want to play no more, y'know what I mean?—an' he held out the vi'lin like he wanted Grappelly to take it back, but Grappelly he shook his head an' he said: "Jes' lay it down some place, I don't want it!' / Still on the subject of South, Teddy produced the following gem. 'Man that eddie South he sho could play that vi'lin, why, he even went to Hungary an' dat's vi'lin country. Why, that's going in among de tigers an' playing Heah come de Tiger!'" – John H. Wareing, "Some Reminiscences of Teddy Weatherford", Jazz Forum, iv (Fordingbridge, England, April 1947)

BG/46; ?February 1938; Eddie South Quintet
CD Timeless Historical [NL] CBC1-086 (a-c) Americans in Holland, The Great Thirties, Broadcasts and Private Recordings
NOTE The previously unidentified title is "Speevy", a Reinhardt, Grappelly composition, recorded by QHCF for Swing, 25 November 1937, the same day as South's final session with Reinhardt and Grappelli. The QHCF's "Speevy", unissued on 78, was first released on CD Frémeaux [FR] FA306; rereleased CD Frog [EN] DGF52. South's broadcast "Speevy" is included on the cassette accompanying the book Black Gypsy. The signification of "Speevy" has not been established. It may be a misspelling. Reinhardt and Grappelli recorded "Bricktop" at the same session, also not released until the CD era.


BG/47; 13 March 1938; Eddie South Quintet and Duo
Delete AM in the matrices.

BG/50,65–66; 1946; Eddie South on Film
South's appearance in a film entitled Holiday in Harlem is believed to be taken from one or both of his scenes in Stars on Parade. Holiday in Harlem, presented by Yates Pictures Inc, ?–early 1950s, includes Sugar Chile Robinson; Dusty Fletcher; Bob Howard; Phil Moore Four; Peters Sisters; Eddie South; Una Mae Carlisle; Miller Bros & Lois; George Wiltshire; Ida James; Jeni Le Gon; Cab Calloway Orchestra. ¶It is confirmed that an unassociated earlier film entitled Stars on Parade does indeed exist, incl. Nat King Cole, produced by Columbia Pictures in 1944. ¶Larry Richards, African American Films Through 1959, A Comprehensive Illustrated Filmography (Jefferson, NC, 1998), p.162, reproduces a poster for Stars on Parade (1946), which includes a cameo photo of South but, in keeping with most prev. refs, continues to confuse the 1944 and 1946 films by erroneously incl. the King Cole Trio and Benny Carter Choir in the film entry's cast list despite their absence from the poster. The book is otherwise appalling in its catalogue of error and omission incl. misidentification of white musicians as black.

BG/51; 10 June 1940
CD ? [DR] [2 - disc 2] ? (g) "Mehr Jazz!" Sagten die Frauen, Joseph von Westphalen

BG/52–53; 12 March 1941
The complete Columbia single-sided safety 12'' LP has been recovered and is now in the AB Fable Archive as at October 2020. The session is as follows (note changes to take nos which do not in three instances accord with the released discs*):
CO29926-1 Zigeuner in Rhythm [aka Tzigane in Rhythm] – breakdown, engineer Harry Fein's voice
CO29926-2 Zigeuner in Rhythm [aka Tzigane in Rhythm] – false start, engineer Harry Fein's voice
CO29926-3* Zigeuner in Rhythm [aka Tzigane in Rhythm] – unissued on 78 – test issued on AB Fable CD – test reads take 1*
CO29927-1 Oh, Lady, Be Good! – unissued
CO29927-2* Oh, Lady, Be Good! – issued on 78 – reads take 1*
CO29928-1 Stompin' at the Savoy – unissued
CO29928-2* Stompin' at the Savoy – issued on 78 – no take designation*
CO29929-1 Tea for Two – unissued
CO29929-2 Tea for Two – unissued
BG/53; 24 March 1941
An aircheck of South's performance has come to light on which he plays "Paganini's 24th Caprice" acc. Cootie Williams (tp), Benny Goodman (cl), Johnny Guarnieri (pn), Charlie Christian (gt), Artie Bernstein (sb), Dave Tough (dm). Previously noted "Dinah" appears to be in error except in the event that South played two pieces.
BG/54; 23 April 1941
Titles on ET label are "Jam Session at Carnegie Hall No. 1", "Jam Session at Carnegie Hall No. 2", not as previously given. "No. 1" [Ad-Lib Blues] and "No. 2" [One O'Clock Jump].
ET release is not VOA but: Department of State, United States of America, Office of International Information and Cultural Affairs, International Broadcasting Division, Notes on Jazz QND7-MM-5492 Program 15-A – Master No. 17-4143 – released many years after the event

BG/56; Eddie South Sheet Music

"Daybreak" carries Feist imprint, though distributed by and in same series format as Robbins publications. It shows copyright dates 1928 (the original "Mardi Gras") and 1942.

"Deep Purple" is credited to De Rose [sic] alone [i.e. not with Parish, presumably because lyrics are absent] ref. is [SH 2522-6]

"Black Gypsy", at least, but probably others too, is known to exist in both covers states.

BG/61; 14 June 1944; Esquire Session Discovered
The trio session for the unrealized Esquire magazine label was, in fact, released at least in part. Two titles (d,e) as by Eddie South and His Trio were released on fugitive 78 Franwil F1012/F1013 "Among My Souvenirs" / "Someday Sweetheart", two copies of which are now in the AB Fable archive. The "release" numbers are reversed on the disc but the titles appear as labelled. The letters DM [?–dub master or matrix] also appear on both sides of the disc. What is presumed to be a dub transfer of this fine music is badly distorted. This release, a copy of which comes from the collection of William B. Johnson, Station Manager, Channel 5/TV, Phoenix, AZ, is an astonishing discovery. Producer Leonard Feather himself reported the Esquire session unissued. All discographies to date, drawing titles and date from a listing in a contemporary Esquire jazz yearbook, have shown the session unreleased. Were the remaining four titles, incl. "Black Gipsy"[sic], also released? – see also BG/13,16 – see also ?–apocryphal session fol. ¶Composer credit for "Among My Souvenirs" reads Lawrence Wright, the London music publisher. The tune is usually credited under his pseudonym Horatio Nicholls in collaboration with lyricist Edgar Leslie. ¶Composer credit for the lengthy uptempo "Someday Sweetheart", the last note of which is cropped abruptly, reads Jasmyne–Jerome in error. ¶South's Franwil label may or may not be related to other-series 1950s labels Franwil and/or Franwill. Louis Metcalf recorded for Franwill. ¶In Billboard (21 December 1946), Songcraft, Inc., Broadway, placed an ad offering the six masters, along with masters by Stuff Smith and Mary Osborne, Joe Marsala, Herman Chittison for lease or sale. The Smith–Osborne's were released only in Europe.

BG/61; July 1944; Jubilee
LP Joyce LP5005 is titled Jimmy Lunceford's Jubilee

BG/62; 1944; Standard Transcriptions
Billboard (11 November 1944) reported South signed to cut ten sides for Standard. In fact, nineteen sides were released on the two discs.The recording date should be put forward from September to November 1944.
LeGrand [?LaGrand] Mason and Connie Jordan were members with George Crawford (pn) and Ulysses Livingston (gt) of The Four Blazers who recorded for Melodisc and Excelsior, LA, c.1944.
LP Trip TLP5803 = LP Parnaso [Argentina] PME13027 Eddie South y son trio, El Angel del Violin – released 1974
CD Soundies ? (r) Once Upon a Holiday – Christmas compilation
CD Compose D173853 (p) Jazz Greats – compilation
CD ? ORBVCP7461 (p) The Brazil Project – compilation

BG/64; 15 April 1945; Lionel Hampton Carnegie Hall Concert with Eddie South String Section
"[. . .] The concert was divided into two halves, with the first half the more exciting, the second half the more interesting. Therefore, those who came to be excited will tell you that the second half was a let-down after the first half, while those who came primarily to be interested in Lionel's attempts at something he hadn't done before will tell you that the second half was definitely more worth-while. [. . .] The producers of the concert, Barry Ulanov and Leonard Feather, deserve much credit, on the other hand, for the inclusion and the handling of the thirty-odd [thirty-two] string section. Concert-mastered by Eddie South, conducted by Harry Hoffman and Lionel, this group of non-jazz artists blended gorgeously in phrasing and execution with their shorter-haired brethren. They did "Carnegie Special", splendidly arranged by [Milt] Buckner; "Where or When" and "I Can't Get Started", featuring Lionel on overly amplified vibes, and a Herb Quigley opus called "Three Minutes with Three Notes", which was both interesting and charming. The addition of the strings was largely experimental and proved that you can do something by combining a swing band with a big number of stringed instruments—if you've got the money to pay for them. [. . .]" – George T. Simon, "Hampton Concert Socks; Carnegie Rocks", Metronome (NY, May 1945), 9, 31 – Part of the concert without strings was released on LP Decca. Dan Morgenstern suggests that the part with strings may not have been recorded because of the logistics of recording thiry-two string players as well as contractual difficulties that would have ensued. An announcement in Metronome (NY, April 45), 9, mentioned that the Carnegie Hall concert would follow tryouts in Trenton and Philadelphia. A review by editor Gib [George] Brown in Jazzette, i/4 (Boston, March–April 1945), 12–13, reveals that Hampton played a similar earlier concert at Symphony Hall, Boston, 7 February 1945, with Ulanov mc, in which he used a string section from the Boston Symphony Orchestra. Eddie South is not mentioned. Titles with the string section were "Holiday for Strings", "Moonglow", "Tiny's Exercise", "Where or When".

BG/64; 1945–1946; WHN Gloom Dodgers
South appeared regularly on Gloom Dodgers at least from June 1945 (Metronome, July 45).

BG/64; 2 December 1945; Music America Loves Best
It was program no. 78 in the series.

BG/65; Stars on Parade – see also BG/74; Gold Seal fol.
This film opened in Baltimore 31 March 1946. It is now believed to have been made late 1945.
VIDEO Deloss no no.(Eddie's Blues only) Vintage Blues Legends, 1929–1948, Roots of Rock and Roll, vol. 2, Blues Rarities

BG/67–73; Identified Sheet Music of Country Recordings incl. South
Zeke Manners, 27 September 1946: Fat Man Blues (words: Bill Cane, music: Zeke Manners), publ. Bob Miller (NY, 1947)

BG/67; 20 November 1945; Dave Denney
Released take on viewed example of (a) on red label 78 Musicraft 429 is 5335M2, not 3 – artist credit is simply Dave Denney – Musicraft 15058, the suspected originally scheduled release of this coupling, is in fact by Phil Moore. Released takes on viewed example of (b) and (e) on blue label 78 Musicraft 15049 are not stated and are assumed to be a single take titles. ¶Released take on viewed example of (d) on blue label 78 Musicraft 15050 is indeed 5338-C although the log apparently gives two takes only; (f) reads 5340 with no attached take designation though what may be a tiny 1, perhaps a stamper not a take, appears elsewhere – blue label artist credit is Dave Denney / Orchestra under direction of Don Albert

BG/67–68; 28 January 1946; Dave Denney
Unreleased on 78 (e) was released on LP Viking

BG/68–69; 20 February 1946; Zeke Manners
Read; RCA-Victor 2533, not 2534

BG/69; 7 March 1946; Billy Williams
Read: Art Ryerson, not Ryserson

BG/69–73; Henry Lewis; RCA Victor
The trumpeter named in the RCA Victor recording ledger as Henry Lewis on several of South's RCA Victor country sessions is in fact Henry Hot Lips Levine – see blue page photos for a photo of South recording with Texas Jim Robertson

BG/72; 9 October 1946; Rosalie Allen
CD Cattle Compact [DR] CCD226 (b-d) Rosalie Allen, The Hillbilly Yodel Star of the 1940s

BG/72; 27 September 1946; Zeke Manners
Read: (d) South solo
Read: RCA Victor 20-2533, not 2534

BG/74; October 1946; Pilotone
The cellist is more likely to be Isadore Izzy Gusikoff than his brother Sol. Izzy's work included Station WOR; Sol was Broadway contractor.
Pilotone vinylite pressings of (c) "Body and Soul" have a small defect: a brief whistle or swish a few seconds from the start more or less pronounced on different auditioned examples. Recording characteristics on the two orchestral vocals (a,b) differ with far more forward presence on (a) than on (b). ¶Four Pilotone titles (a,b,g,h) were also released on vinyl 78 18 Top Hits BR39 Bonus Selection, All Time Favorites, Played by Eddie South, The Dark Angel of the Violin with two titles each side on which the recording characteristics of (a,b) have been attended to. Two Pilotone titles (f,g) were also released on the B-side of 45 Top Hits BR26-X45 Bonus Selection, Favorite Standards; however credit was given to Stuff Smith and His Orchestra in error! The A-side was Jerry Cooper and His Broadway Show Orchestra. The label 18 Top Hits was part of Enoch Light's stable which incl. Waldorf and Grand Award. ¶New Friends of Rhythm recorded for International with Maxine Sullivan in January 1947, and without her in March 1947, not late 1946, making the suggestion of Harry Patent (sb) on South's Pilotones even more flimsy. However, one might consider that 1947 New Friends Bernard Robbins (vn) and Ralph Hersh (viola) could make with Shulman South's three- violin or violin/viola ensemble section. ¶Matrices are shown incorrectly. They should read P45 PR 5057-D etc. P45 appears only on the labels.It does not signify 1945 – full discographical revision follows:

EDDIE SOUTH AND HIS ORCHESTRA
Eddie South (vn), Sylvan Shulman, ?–Bernard Robbins on (a,b,d) only (ensemble vn), ?–Ralph Hersh on (a,b,d) only (ensemble ?viola), prob. Isadore Izzy Gusikoff [or Sol Gusikoff] on (a,b,d) only (ce), Samuel Fiddler (pn), Tony Gattuso [apparently Gattuso rather than Gottuso is correct] (gt), ?–Harry Patent (sb), Tom Hatch on (b,d,e,g) only (dm, vb), Terry Allen on (a,b) only (vocal)
New York, c.mid October 1946
a P45 PR 5057-D Deep Purple (Parish, DeRose) 122 - 1
b P45 PR 5058-E Lilacs in the Rain (Parish, DeRose) 122 - 3
c P45 PR 5059-C Body and Soul (Heyman, Sour, Eyton, Green) 122 - 7
d P45 PR 5060-C Sentimental Rhapsody [aka Street Scene] (Adamson, Newman) 122 - 5
e P45 PR 5061-F Sweet Sue (Just You) (Harris, Young) 122 - 6
f P45 PR 5062-D Ain't Misbehavin' (Razaf, Waller, Brook) 122 - 2
g P45 PR 5063-D Star Dust (Carmichael) 122 - 4
h P45 PR 5064-C Honeysuckle Rose (Razaf, Waller) 122 - 8
78
Pilotone 122 (a-h) Eddie South: The Dark Angel of the Violin
18 Top Hits BR26 (f,g) Bonus Selection, Favorite Standards – credited to Stuff Smith and His Orchestra in error – coupled with Jerry Cooper and The Broadway Show Orchestra
18 Top Hits BR39 (a,b,g,h) Bonus Selection, All Time Favorites, Played by Eddie South, The Dark Angel of the Violin – two titles each side – since there is a 45 release of BR26 there may also be a 45 release of BR39
45
18 Top Hits BR26-X45 (f,g) Bonus Selection, Favorite Standards – credited to Stuff Smith and His Orchestra in error – coupled with Jerry Cooper and The Broadway Show Orchestra
NOTE
P45, which appears on Pilotone labels only, cannot signify 1945 since this session is known to be 1946. ¶No composer credits on labels. ¶Some pressing faults on Pilotones.

BG/74; October 1946; Gold Seal
Revised details
EDDIE SOUTH AND HIS ENSEMBLE [incl., credited only on second liner state, Shandor's Gypsy Orchestra on (a-d) only]
Eddie South (vn), ?two incl. Alexandor Shandor Godla on (a-d) only (ensemble vn), ?–?Benci or ?Fransko on all (ce), Richard Marta on (a-d) only (cymbalom), ? (pn), Ted ? on (e-h) only (el & ac gt), Leonard Gaskin (sb), ?–Jack the Bear Parker on (?–e,g,h) only (?dm)
New York, c.late October 1946
a A Best Years of My Life (Sandor Jenö) 2005ES
b B Yesterdays (Jerome Kern) 2008ES
c C Twelve O'Clock at Night (Shandor) 2004ES
d D The Very Thought of You (Ray Noble) 2001ES
e E [The] Hot Canary (Paul Nero) 2006ES – label for this side only carries 1946 copyright
f F These Foolish Things (J. Strachey, H. Link) 2002ES
g G Daphne [aka Daphné] (Django Reinhardt) 2003ES
h H Paganini's 24th [aka Paganini in Rhythm aka Caprice No. 24] 2007ES
78
Gold Seal Vol. 3 (a-h) Eddie South: Dark Angel of the Violin [no The in album title]
NOTE
Letters are definitely matrices, not takes. ¶Composer credits as on labels. ¶There are two liner states. The first reads Tea for Two struck through and Daphne written in by hand and includes a small photo of South. The second state is more descriptive, credits Shandor and does not include the photo – research assistance courtesy Konrad Nowakowski. ¶Suggested identity of (ce) is speculative based on the appearance of these names with Shandor as The Gypsymfonette on two 78 Gold Seals which have not been auditioned. ¶The cymbalon player is identified in a review of Shandor at The Golden Fiddle, New York, 12 November 1947, in Billboard (22 November 1947. ¶A recording of mostly jazz standards by Shandor and His Gypsies, a quartet without cymbalom, for WDET-FM, 1 November 1981, Detroit, is extant. Shandor died in 1999. Shandor's working personnel at Kovac's, Detroit at the time was: Jimmy Kovacs [no relation to the club proprietor] (cymbalom), Norman Goldie (gt), Robert Goldie (rhythm gt), Marty Hallup (sb). ¶Gold Seal was owned by Leonard Klein

BG/75,122; rev. FB:VIS/iv/13/7; 11 January 1947; Personnel of Vaughn Monroe Orchestra with South
Read: Vaughn, not Vaughan. Garrod & Korst, Vaughn Monroe and His Orchestra, 1940–1954 (Zephyrhills, FL, 1986) does not give this session but gives Monroe personnel New York 15 October 1946 and Hollywood 13 February 1947, the latter date after but closer to the South New York session. Monroe's orchestra was a travelling orchestra. It is not known whether known personnel changes took place before or during the Hollywood residency; some changes noted [LA] were still with the orchestra later in 1947 in Chicago and New York: Eddie South (vn), Hank Jones (pn), Leonard Gaskin (sb) with Vaughn Monroe Orchestra: Frank Ryerson (tp, ar), James Messina, Richard Lasala, Fred Taylor & Ed Shedowsky [NY] or Sal Gianetina [LA] (tp), Sam Hyster, Bill Mustard, Joseph Conigliaro, Joseph Bennett (tb), Andy Bagni, Phil Olivella [NY] or Louis Feldman [LA] (as), Ziggy Talent, John West [NY] or Vito Marasco [LA] (ts), Maurice Ancher, Edmund Braghittoni, Sam Caplan, Seymour Berman, Irving Raymond (vn), John Pastore [NY] or Eduardo Sodero [LA] (ce), Michael Shelby (pn), John Bucky Pizzarelli (gt), Jack Fay (sb), Edward Julian (dm), Vaughn Monroe, Moon Maids: Kathyrn Katie Myatt, Hilda Tinker Cunningham, Arlene Truax, Mary Joe Thomas, Mary Lee [NY] or Mahree Ahm [LA] [?same] (vc)

BG/75; rev. FB:VIS/iv/13/7; 17 January 1947
NEW TAKES: Takes of (a,b) released on Remington EP/LP are not the same as takes originally released on 78. All subsequent LP releases, whether of (a,b) use the Remington takes. It is not known whether takes 1 or 2 appear on 78. There was no EP/LP release of (d).
CD Storyville [DK] 1018339 (a-d [using LP takes of (a-c) and 78 take of (d)]) The Continental Sessions, Vol. 3 – poor transfers and session details in error
Read: EP Remington REL45808, not REP80 [unless there are two issues, which is not impossible]
LP Paris International DG120/121 entitled Music Appreciation Library, Vol. 10, A Jam Session by Sarah Vaughan and Other Jazz Stars

BG/76; early December 1947
The guitarist is almost certainly Ernest Ashley, not Skeeter Best – see 19–23 December 1947 fol.

BG/77; 19–23 December 1947
CD Giants of Jazz [IT] 53325 (a) Father Earl Hines, Rosetta

The label of 78 Sunrise 2116 "Blues for Garroway", a reference to Chicago radio and television host Dave Garroway, has been viewed. It reads T. Crump (ts), E. Ashley (gt): Thomas Crump, a member of the large Hines orchestra that recorded for Sunrise early December 1947, and almost certainly Ernest Ashley. Morris Lane and Skeeter Best are therefore in error on this session and Ashley is almost certainly the guitarist in the early December 1947 orchestra, not Best. It would therefore also be Crump, not Lane, on "Honeysuckle Rose" provided this, and "Dark Eyes", both with South, were recorded at the same session. That seems likely but not certain. If it is indeed Crump, not Lane from the Lionel Hampton orchestra, that opens up the possibility of an earlier December date. Exceptionally, 78 Sunrise 2116 was released not close to the time of recording but in 1950. The label reads The Earl Hines Combo. The coupling "Jackie's Dance" is an unrelated 1947, not 1951 as given by some sources in error, Tiny Grimes session incl. John Hardee (ts). There are LP and CD releases of "Blues for Garroway" that ascribe this Hines recording to Grimes' session in error.

Web refs to Tiny Grimes (vn) are in error and result from misreading discographical data ref. the unassociated Grimes (gt) session coupling on 78 Sunrise 2116. Grimes did not play (vn).

BG/77; 31 December 1947
78 Sunrise 525 matrix 2126 "The Sheik of Araby" is vocal by Wini Brown and Roland Burton. The previously undocumented coupling matrix 2130 "Pee Weesin' Blues", credited as a Hampton composition, is vocal by Wini Brown, the only known title from the session not as yet rereleased. It is also the only known title on which no violin appears to be audible. South could be part of a quiet background riff by the horns behind Brown at one point but his presence is not evident. There is distortion at one point during Brown's vocal, a fault on the original master or pressing. Hines' name does not appear on the labels although he plays. Blue label design is quite different from other Sunrise red label releases. This title is also a new addition to the Charles Mingus corpus.

Web refs disputing South as the pseudonymous Bill Dougherty on this session are we believe in error. We believe he is South.

78 Sunrise 2115 SR prefixes to (e,f) matrices are label errors. Shellac shows, with takes, correct SU 2128-A; SU 2129-A. [Note ref. BG/75 Hines December 1947 Sunrise 2014 matrices on disc do not show takes.]

BG/81; c.3 March 1951
Read: 78 Chess 1460 (b,d) – The take of "I Can't Give You Anything But Love" released on 78 is not the same take as that released on LP. The 78 take includes South playing pizz, as on the 78 Recoton lacquer. South does not play pizz on the LP released take. How many takes of some titles exist that we do not know about? ¶Chess label gives Eddy South in error.

BG/82; South with Robert Trendler performed on DuMont WGN-TV This Is Music, 17 January 1952. Pate's own lacquer disc now in the AB Fable Archive.
BG/83; 14 July 1958; 15 July 1958
Recorded Ter-Mar Recording Studios, Chicago

BG/91; Name
South's middle name Otha is an old, but probably uncommon, name in the American south – research assistance courtesy Rani Arbo.

BG/91; Early Years; New Itinerary
Attended Wendell Phillips High, Chicago, later attended by Milt Hinton and Ray Nance.
The BAA obit. reference to Luis Vaughn surely intends Louia Vaughn Jones
Chicago – Sunset Café – first professional engagement – 1910s
Chicago – Entertainer's Ballroom – violin duo with Juice Wilson as the Gold Dust Twins featured with Freddy Keppard Orchestra – 1919
Chicago – De Luxe Gardens – May Brady Orchestra [sic: Mae Brady was a violinist], with whom South is known to have played at some point, advertised at "Chicago's Most Beautiful Dancing Parlors" (CD, 7 May 21) – incl. May 1921
Chicago – Dreamland Ballroom – with Charles Elgar Orchestra – 1921–?1922 [Elgar recorded after South left, in 1926]
Chicago – Moulin Rouge; House that Jack Built; Villa Venice – director of James Wade Orchestra – 1922–1926 [recordings incl. South 1923–1924] – House that Jack built opened 1924 renamed Villa Venice owned by James Papa Bouch Wade – Roy Butler (rd) joined Wade Orchestra in 1925 and remained until it broke up in Chicago in 1927 after return from New York – see. fol.
New York – Club Alabam – director of James Wade Orchestra – 1926–1927
Chicago – Picture Theatres – first violinist with Erskine Tate Orchestra of sixteen pieces – 1927 [Tate recorded before South joined, in 1923 and 1926]


BG/91–100; Itinerary
New York – 54th Street Club – summer 1928 (South)

Paris – L'Ermitage Moscovite – Kostya Konstantinoff was a pianist; Rudolph Vodolarsky was an orchestra leader – see also FB:VIS/iv/11/107 – c.1928–1929
Paris and Spain – Eddie South and His Plantation Boys leave Paris for Spain ( NYAN, 3 Apr 29) – 25 March 1929
Paris – Chicago entertainer Mae Alix arrives, scheduled with South at the Plantation (NYAN, 3, 10 Apr 29) – sails from Le Havreon Ile de France, 22 May 1929 arriving New York, 28 May 1929 – recorded with Jimmie Noone in Chicago, 11 July 1929
Paris – Le Grand Ecart – c.1929 (CD)
Monaco – Carlton Hotel; Sporting Club; Café de Paris – 1929–1930 (CD)
Cannes and/or Monaco – ?–Carlton Hotel – ?Banco – South may have shared an engagement opposite Django Reinhardt at Carlton Hotel, Cannes and/or Reinhardt may have been in Monaco – Banco club may have been Monte Carlo or at Carlton – spring and/or summer 1931 (MD email – see also biblio., Dregni)
Sailing: South, King and his wife, Spaulding, Wilson and Cuban drummer Jose Isidro Sergio Barreto sailed on SS Leviathan from Cherbourg, 28 August 1931, arriving New York, 3 September 1931. Barreto was held by immigration until 19 September when he was released on bond.
Chicago – Rubaiyat – According to The Metronome (October 1931), 23, South's opening personnel was King, South, Spaulding, Sterling Conway [sic: Conaway], Jerome Burke [sic: Bourke]. This is at variance with other reports as prev. noted
New York – Small's Paradise – Party for South (NYA) – night of ?18–19 May 1934
New York – Renaissance Casino – N.A.M.A. concert dance – incl. South (NYA) – 22 May 1934
New York – Small's Paradise – South; Gladys Bentley; Snakehips Tucker (NYA) – 20 Oct 1934
New York – ?–Renaissance Casino – N.A.M.A. concert dance – South concert orch.; Cecil Smith dance orch. (NYA) – end Nov 1934
Boston – one week – Marrero (dm) – c.early March 1935 (CD)
Tory, New York – Marrero (dm) – c.early March 1935 (CD)
Chicago – Club 885 – at least spring–summer 1936 (Philadelphia Tribune, 20 June 1936)
Milwaukee – Blatz Hotel – the pianist is Gabby Rogers; the drummer is Jules Dregge – Oct 1938–Jun 1939
New York – Cotton Club – South at least twelve-piece band scheduled to open new club on site of defunct Famous Door from just before New Year 1944 (Metronome, Jan 44)
Chicago or New York – ref. to South at Three Deuces, Chicago is prob. in error for Elmers, Chicago or Three Deuces, New York – The Chicago Three Deuces burnt down 1 January 1940 while Stuff Smith was in residence.
New York – Cafe Society Uptown – South may return to the club on Labor Day 1945 (Metronome, Jul 45)
Chicago – Brass Rail – read [not late March]: mid February–mid March 1947
Leonard Gaskin has kindly provided a February 1947 Eddie South Joe Glaser Assoc. Booking Corp. publicity photo of a Chicago music store window display of three violinists and their photos: Freiche "Broadcasting Artist – Playing His Stradivarius from the Wurlitzer Collection"; South "Appearing at the Brass Rail – Playing His Charles Gaillard Violin from the Wurlitzer Collection"; Kreisler "and His Stradivari . . . 'The Earl of Plymouth'". South's centerpiece display includes his Robbins sheet music and Pilotone and Gold Seal albums.
Chicago – read: Taboo, not Tabu (Chicago Herald–American, 15 Mar 47, incl. trio photo) – read [not late March]: mid March–June 1947
St Louis – Forest Park Hotel – an autograph of South, Allen A. Tinney, Gaskin is dated 3 January 1948
Chicago – Airliner – "When I moved to the north side, there was a bar there called the Airliner. He [South] was playing there and I'd go in during intermission in the back room behind the bar and play with Eddie South. . . . It was before I played with Chico Marx. I didn't spend too much time with him but I remember three or four times going back in the room playing with him." – Johnny Frigo interviewed by Peter Anick, "Johnny Frigo: Eighty Years on the Fiddle and Still Growing Younger", Fiddler Magazine, xii/3 (North Sydney, N.S., Fall 2005) — ?–1950–1951
Chicago – Milwaukee Avenue – Leo Andrew's Club [aka Lou Ander's] – South combo – Wednesday–Sunday weekly, six months till May or June 1957 (Record Changer, 15/12, c.late April 57; Record Research, June/July 1957)
Milwaukee – Johnny's Round Up, 2665 N. 27th Street – 27 February–1 March 1959 – unidentified news clipping

An obituary in Jet, xxii/2 (Chicago, 10 May 1962), 60, reports South "A victim of diabetes and a heart ailment" – see Bibliography fol.

–––––––––

Henry Crowder, who died Washington, DC, 20 March 1955, age 64, was born Gainsville, GA, 16 June 1890, not 1895 as given by Nancy Cunard; nor 1888 as given by a British Library bibliography.

–––––––––

Chicago, off Rush Street – Walton Walk – South ?trio (GL mail) – many months from second half 1955–1956

BG/102–104; Bibliography
Anon., "Dark Angel of the Violin: Talented Eddie South Is Idol of Night Club Fans on Both Sides of the Atlantic", Ebony, vol. iii, no. 10 (Chicago, August 1948), 40–41, incl. photos
Anon., "Dark Angel of Violin" Dies in Chicago, Jet, xxii/2 (Chicago, 10 May 1962), 60, obituary, incl. photo
Anthony Barnett, Listening for Henry Crowder (Lewes, East Sussex, 2007), incl. South photos not in Black Gypsy
Sidney Bechet w/Joan Williams and Desmond Flower, Treat It Gentle (New York; & London, 1960) – incl. chapter "Trouble in Paris" ref. 1928 Bechet–McKendrick shooting incident and, according to Bechet, unsavoury part played by pianist Glover Compton, though this is contradicted by Glover's contemporary acount in Chicago Defender and to some extent by Henry Crowder in his posthumously published memoir As Wonderful As All That?
Michael Dregni, Django: The Life and Music of a Gypsy Legend (NY, 2004), incl. South and Reinhardt
Benjamin Givan, "The South–Grappelli Recordings of the Bach Double Violin Concerto", Popular Music and Society, vol. 29, no. 3 (Philadelphia, July 2006)
Max Harrison, "Eddie South", Jazz Journal, vol. 15, no. ? (London, 1962), 5
Max Harrison, "Tribute, Eddie South, Dark Angel of the Violin", The Strad, vol. 105 (London, April 1994), 380–383, profile, incl. photos, based in part on and refs. to AB's early out of date research in FB:VIS/i/1, transcription excerpts from 1937 "Sweet Georgia Brown", "Eddie's Blues"
Eddie Higgins, "Eddie South, In Memoriam" [?unpublished], typescript tribute by one of the pianists on South's 1958 LP Mercury
James Holloway, "Dark Angel of the Violin, An Appreciation of Eddie South", Melody Maker (London, 24 August 1940)
Gene Lees, You Can't Steal a Gift: Dizzy, Clark, Milt and Nat (Newhaven & London, 2001), 181–195, et al, Milt Hinton on South – note ref. to Lester Moreira (dm) is incorrect orthography and should read Ernesto Marrero; Hinton's reported recollection of Marrero with South at Rubaiyat in 1931 is believed to be in error for Sergio Barreto; Marrero is not believed to have worked with South until 1934
George T. Simon, "Hampton Concert Socks; Carnegie Rocks", Metronome (NY, May 1945), 9, 31, positive review of Lionel Hampton Carnegie Hall concert incl. thirty-two piece string section with concertmaster Eddie South – see BG/64 prec.
Edward Stasheff and Rudy Bretz, The Television Program: Its Writing, Direction, and Production (2nd, new rev. ed., New York, Hill and Wang, 1956), discusses at length the making of an extant TV program incl. South – see new session Garroway at Large, 13 May 1951 prec. – it is not known whether the program is discussed in the original 1951 edition or in much later editions
John Steiner's report appeared in Record Research, no. 69 (July 1965), 8

BG/104; Compositions by South – see also BG/18–19 prec. ref. Wade
"Lover, Where Are You Now?", words and music Una Mae Carlisle and Eddie South – LC original reg. EU318696, 3 June 1953; effective reg. RE-91-491, 13 March 1981 – no recording by the composers or anyone else is known – photocopy in AB Fable Archive

BG/104; Musical Tributes
Frank Trumbauer (c-mel), incl. Adele Girard (harp), introduces and plays "Hejre Kati" in the manner of South as a tribute to him, aircheck, Hickory House, New York, 25 December 1936 on CD Jazz Oracle [CN] BDW8056 The Three T's

Babik Reinhardt (gt), "Eddie's Blues" (South), "Improvisation sur le premier mouvement du concerto en ré mineur de J.-S. Bach" (arr. Grappelly, South) on CD Imagine released 1996

ViolinJazz incl. Jeremy Cohen (vn) – The Music of Eddie South on Dorian Sono Luminus DSL-92110 – fourteen tracks associated with South – recorded at Skywalker Sound, Marin County, CA, 16, 17, 21 August 2009 – released 2010

BG/105; Johnny Pate
South's colleague Hal Otis (vn) also recorded Pate's "Currant Jelly" – see OTIS

BG/111; Eddie's Blues
There are in fact five released recordings of Eddie's Blues. Two different Continental takes were released, one on 78, one on LP. The two takes are close but not identical. Hanno Grässer's analysis refers rather to the LP than the 78 take.


Here follow images of South amendments in printed FB:VIS/iv/11–13 (1999–2000)


<![if !vml]>
<![endif]>


<![if !vml]>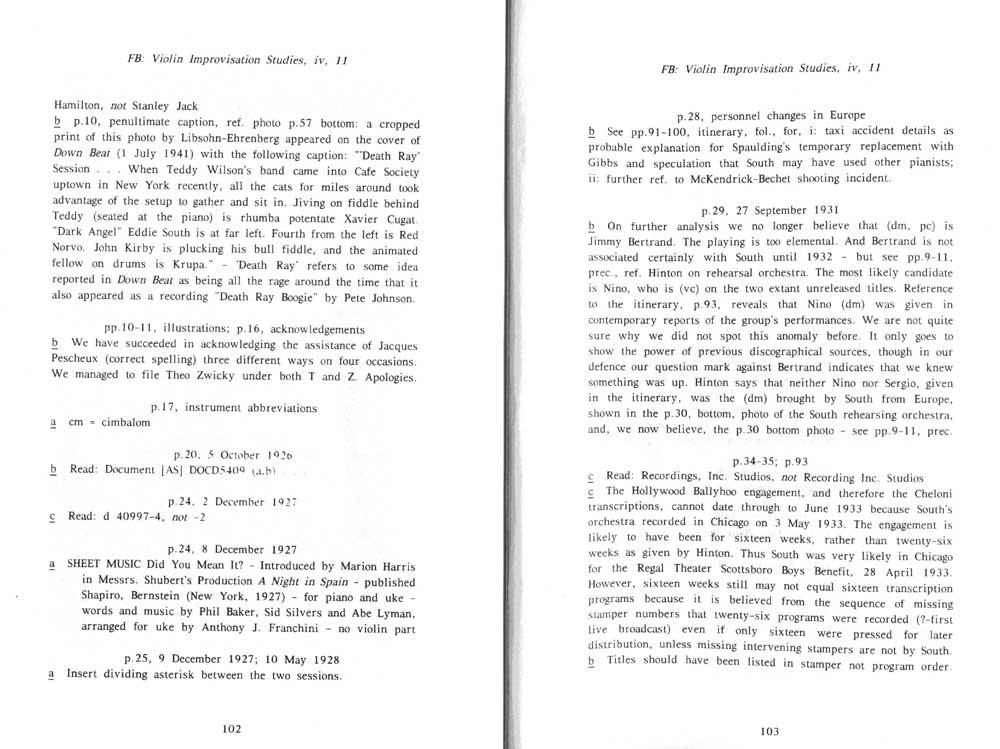 <![endif]>


<![if !vml]>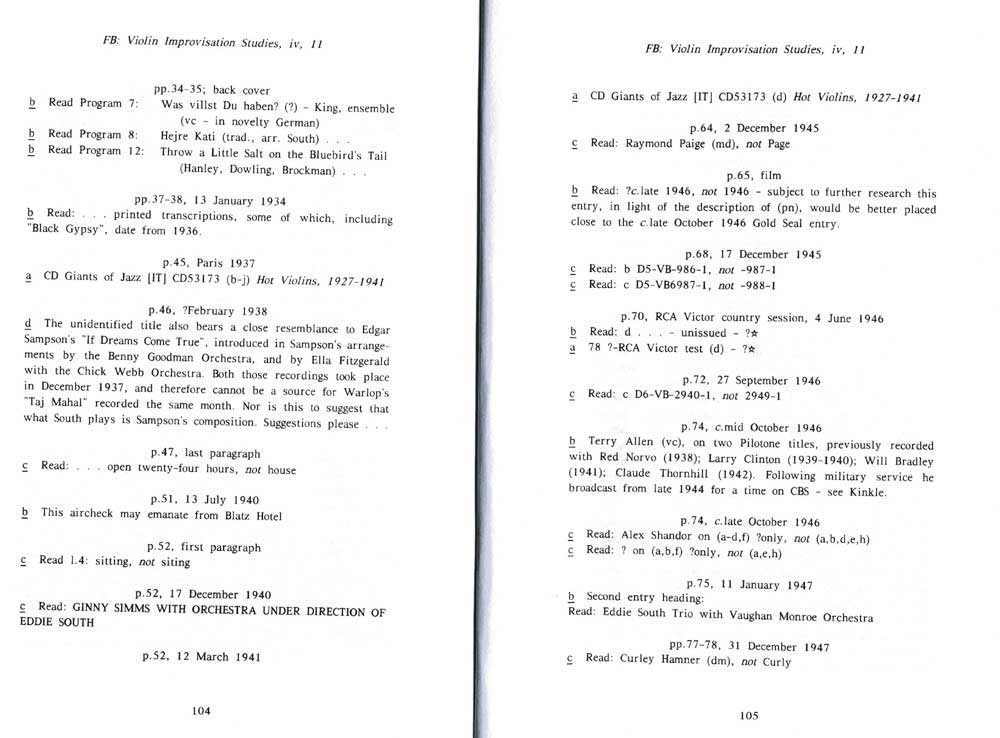 <![endif]>


<![if !vml]>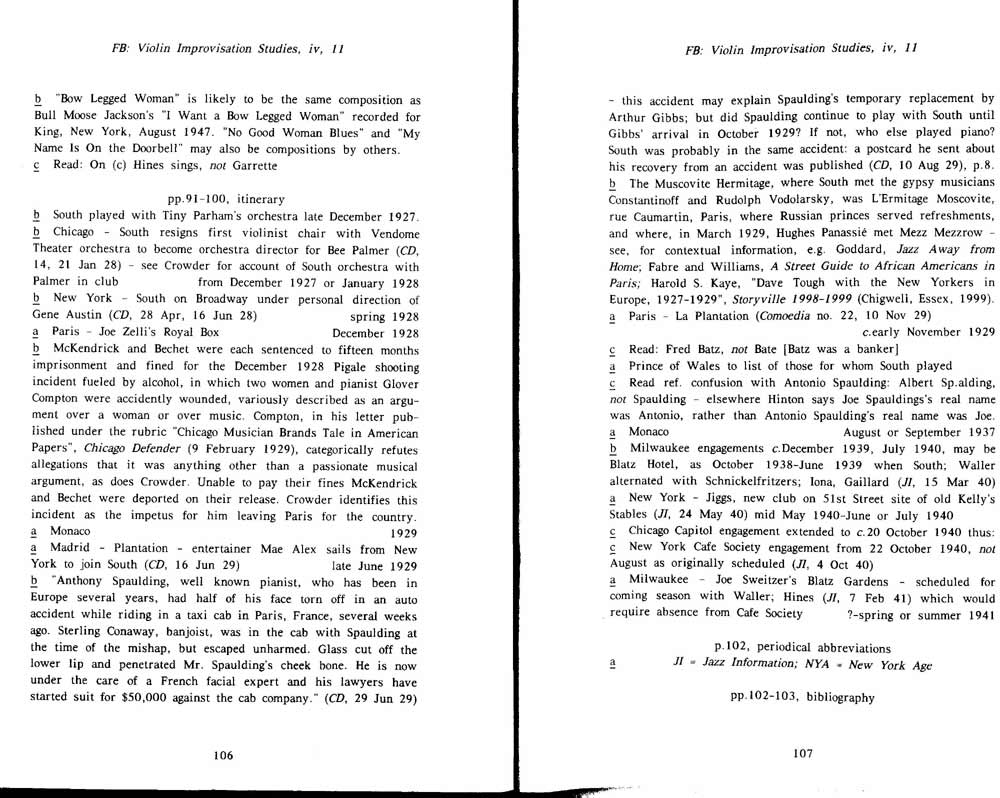 <![endif]>


<![if !vml]>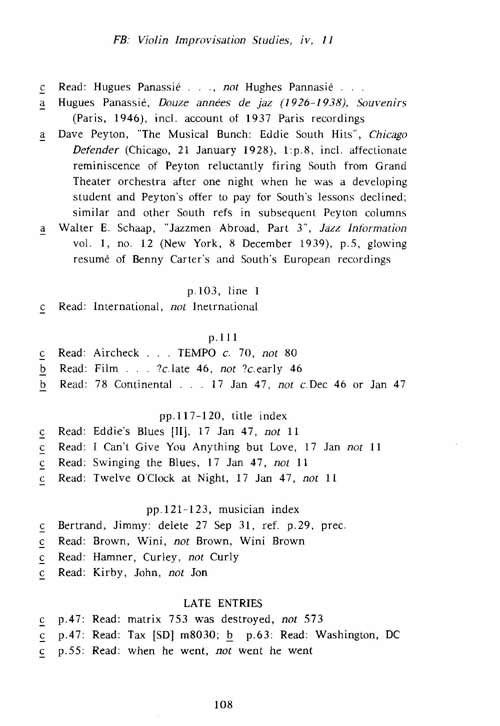 <![endif]>


<![if !vml]>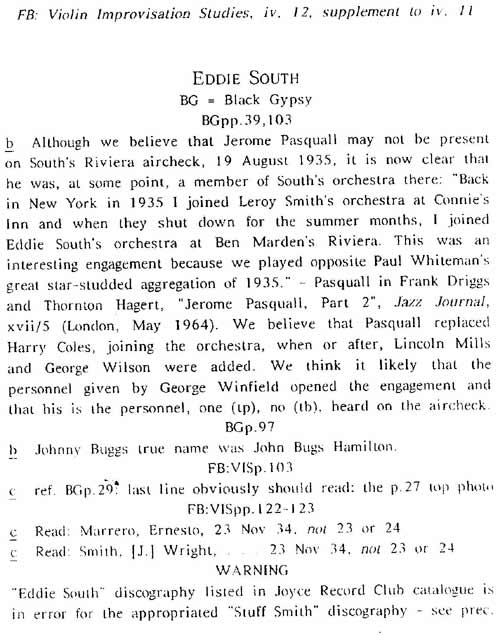 <![endif]>


<![if !vml]>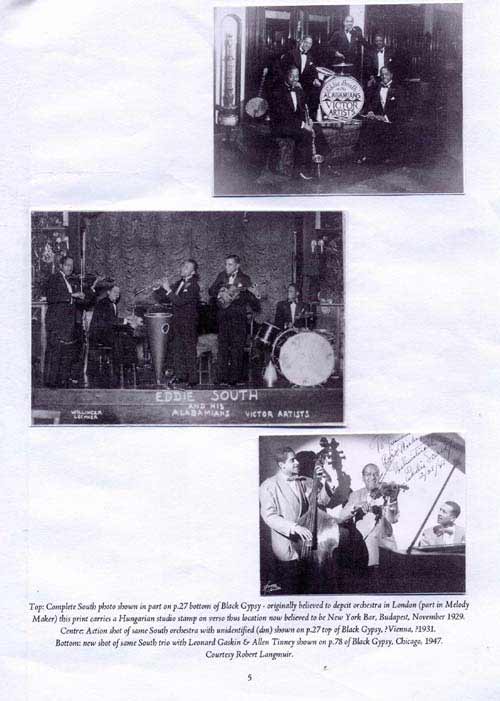 <![endif]>


<![if !vml]>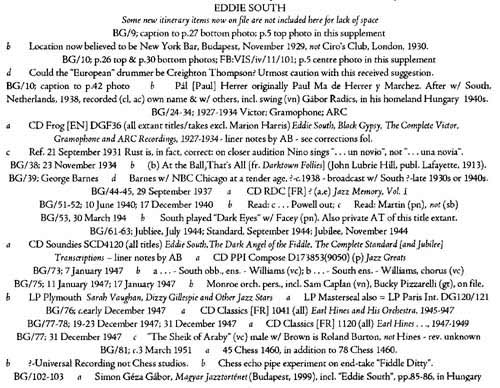 <![endif]>

<![if !supportLineBreakNewLine]>
<![endif]>