JEAN-CLAUDE MILLER

BEVERLOO, LAUFEN AND TITTMONING

These are lightly edited extracts from Jean-Claude Miller's emails to Anthony Barnett about
civilian alien internment in Beverloo, Laufen and its subsidiary camp Tittmoning
Jean-Claude Miller was interned in all three and knew Henry Crowder well, recalling that
Crowder was also in Laufen, presumably between two periods in Tittmoning
Some further editing for clarification may be pending

Important
These extracts cannot be fully understood without reference to the newspaper
interviews with Henry Crowder, Freddy Johnson, Reginald Siki reprinted in
Listening for Henry Crowder

The latest extract is posted first and the earliest last

Copyright © Jean-Claude Miller and Allardyce Book 2009

Important
Do not reproduce or quote in print or online without the permission of the publisher
Apart from copyright there is the danger of disseminating incorrect information
because of the way these extracts unfold during an exchange of emails
AB's emails are not included

______


<![if !vml]>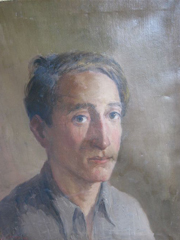 <![endif]>


Jean-Claude Miller by Josef Nassy, Beverloo, 1942, photo Christian de Marcken, courtesy Jean-Claude Miller
This privately owned work is not part of the currently largely inaccessible Nassy Suite held at USHMM

______
6 March 2009

Thank you for sending me the draft concerning Mr Crowder as I remember him. This has given me an opportunity to refresh my memory but also to discover certain facts about other people I became acquainted with during my period of internment. I also want to thank you for your book and CD describing the life of Mr Crowder. Without it I would only have remembered Mr Crowder as a fellow internee of many talents who gave me as well as many other co-internees the gift of his talents at a time when entertainment was indeed a rare occasion. Your book provided me with with many insights about Mr Crowder's very active life. I listened to the CD several times hoping to find some music he had played for us during confinement but did not recognize any of the pieces. On the other hand I do seem to remember two piano works he played: "Sweet Sue" and "Honeysuckle Rose". Ah yes, "Honeysuckle Rose" is on the CD, with the Belgian orchestra. Those tunes recur to my mind, as well as the two songs I mentioned before, but 67 years ago is a long time.

__


28 February 2009

I finished reading your very interesting book about Henry Crowder and searched my memory about occasional conversations I had with him. These conversations were very casual and dealt more with the daily life in camp. He never told me anything about his previous background, professional or private. Until I read your book, my only knowledge of him was a recollection of his fine artistic performances as a singer and a jazz pianist. He was very impressive to me and other people. Unfortunately, my friends who knew him all passed away and I presently know of no one that can provide some information. I am somewhat surprised that George Lukes never met him, as well as myself not remembering Mr Lukes. This remains a mystery that I am unable to explain.

I want to thank you also for enabling me to contact Mr de Marcken, whose father I knew very well since we were lodging in adjoining rooms in Laufen. Mr Christian de Marcken has provided me with much information about his father and we have been able to share our knowledge about Joe Nassy, whose paintings might definitely reveal clues about Henry Crowder. I understand that unfortunately all paintings by Nassy are not available for view. Is this your understanding as well?

As a matter of interest I would like to give you the names of three books in which the Laufen internment camp is mentioned, although not Mr Crowder:

Islands in Danger: The Story of the German Occupation of the Channel Islands, 1940–1945 by Alan and Mary Wood, published by Evan Brothers, in 1953.

One Man's War: The Dramatic True Story of Life in the Channel Islands Under the Jackboot of German Occupation by Frank Stroobant (former British internee and camp senior in Laufen), published by Burbridge, initially in 1967. This provides a vivid description of life of internees in the Laufen camp.

Mercy Ships: The Untold Story of Prisoner-of-War Exchanges in World War II by David Miller, published by Continuum, in 2008.

__


22 January 2009

By reading your book, I am certainly learning much about Mr Crowder which I didn't know 67 years ago. I have read most of your book so far and concentrated on the wartime period. Here are some observations:

Mr Crowder: I did indeed recognize his picture on page 71, which is how I knew him. I am still confused about the time Mr Crowder was in Tittmoning and Laufen. As I remember, I was arrested on April 10, 1942 and was sent to Beverloo the next day with a group of Americans from Antwerp. About one week later another group arrived from Brussels and Mr Crowder was among them. We were in Beverloo until shortly after the American landing in North Africa. The Germans decided at that time to send us to Tittmoning in November 1942 where we were for about one month. I remember spending Thanksgiving there and in early December the Germans sent us to Laufen and this included all American internees. I cannot remember that anyone was left behind at that time. To the best of my recollection it was in Laufen that I saw Mr Crowder perform and had conversations with him. On page 76 I recognized the names of William Walker and son Thomas, who were both with the Brussels group, and I knew them in Laufen as well. Could it be that some were sent back to Tittmoning later? That I cannot remember.

Mr Nassy: I definitely met him in Beverloo. He painted my portrait there (it is still in my possession). He travelled with us to Tittmoning and then to Laufen. We used to like pitching softball together. I don't think he was repatriated but I read an article in a Belgian magazine about his painting exhibition in Brussels after the war. Learned he died in 1976 only a few weeks ago! Aren't pictures of Mr Crowder in his collection?

__


26 December 2008

Many thanks for your message and for sending me your book about Mr Crowder. I also received your follow up note that refreshed my memory about the circumstances of my initial encounter with Mr Crowder and which had escaped me. I indeed met Mr Crowder in Beverloo, Belgium. He was one of five black Americans who had been arrested in Brussels and arrived shortly after we did. Our contacts at that time were limited. It is not until after our transfer from Tittmoning to Laufen that I remember Mr Crowder better after having heard his artistic performances.

Pertaining to his rapatriation to the US I did not know that he was on the previous exchange in March 1944. As a matter of fact my father and I were also supposed to be on that exchange but a last minute mix up kept us both in Laufen for almost another year and we returned to New York on February 21, 1945.

One more point needs to be clarified: the camp in Tittmoning was originally a military prison for British Officers called OFLAG VIID and had been evacuated when we arrived from Beverloo in November 1942. When we were transferred to Laufen a month later we were told the Tittmoning camp was closing and all internees were to be sent to Laufen which then became ILAGVII. Its population was composed of some 500 British deportees from the Channel Islands and about 120 American internees from various parts of Europe. Later, in 1943 a group of Americans from Poland joined us. To the best of my knowledge we never heard of an internee camp in Tittmoning again. If you have other information available, I would be interested in learning. You might also have information in your book which I'm not aware of.

__


25 December 2008

First I want to thank you for your reply to my inquiry and secondly give you some precisions regarding my encounter with Mr Crowder during WW2. I was living in Belgium when my father and I were interned by the Germans in April 1942 at a camp in Beverloo (Belgium) where we were detained until November 1942 when the American Army landed in North Africa. Shortly thereafter the Germans transferred us to Tittmoning in Bavaria. I must indicate that our stay there was less than a month and that I never got a chance to meet Mr Crowder at that time. We were transferred to ILAG VII in December 1942 and that is where we eventually met Mr Crowder. As you can imagine, at that time we were very much segregated and the black Americans were kept together as a group. I can't tell you the date I met with Mr Crowder because it took some time for life to be organized in Laufen where, by the way, there were also about 500 British citizens that had been deported from the Channel Islands.

After some time we started to receive Red Cross food parcels as well as musical instruments and this was a time when entertainment started to be organized. I recognized some of the names Mr Lukes mentions in his emails to you including the band leader of the Swingtemees, Mr Ted White. But getting back to Mr Crowder: we did not discuss his private life or his artistic achievements prior to internment; our discussions were more limited to life in camp and I remember how anxious he was (like all of us) to be free again! But what impressed me most about Mr Crowder was his artistic qualities and I never missed a concert in which he was featured. I remember him playing the piano but his voice was what impressed me most and even 65 years later I can still hear him sing "Old Man River" and "That's Why Darkies Were Born"!

I was repatriated to the US aboard the Swedish diplomatic ship Gripsholm and arrived here before the war's end in February 1945 but cannot recall that he was aboard the Gripsholm and lost track of him thereafter. I believe he stayed in Laufen until the end. Maybe your book explains it.

Concerning Mr Johnson and Mr Welsh, I met them both: Mr Johnson was a very talented jazz pianist and Mr Welsh never played publicly but used to practice on his silent keyboard for hours at a time.

These are my recollections of Mr. Crowder in this phase of internment.
______


BACK TO CROWDER